Grant amount: £1,800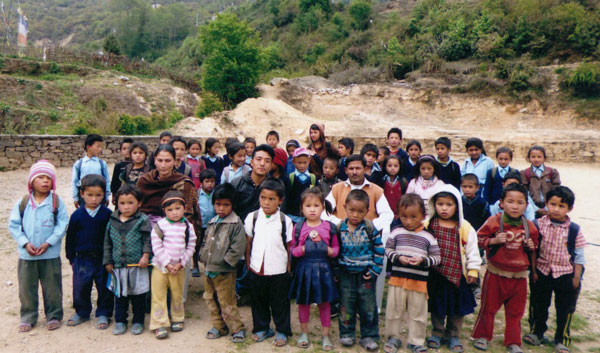 Tsagam and Bagang are small, remote villages in Nepal. Lying 125km from Kathmandu, the villages are inaccessible by car and can only be reached by walking a steep mountain path for seven hours. The villages are made up of 60 Tibetan families who make a meagre living from small-scale subsistence farming, craft making and semi-nomadic herding.
Tibet Relief Fund has been supporting the villages by funding Tibetan teachers since 2009. Prior to this, there was only one teacher per school and the teaching was conducted entirely in Nepali. As well as one teacher being unable to meet the educational needs of an entire school, the parents in the villages were worried that their children would start to lose their Tibetan heritage and language skills. They felt it was very important for the children to learn to read and write in their own language in order to preserve their Tibetan identity. However, with most families barely eking out a living, funding Tibetan teachers at the schools was out of the question.
We have provided grants to support Tibetan education in Tsagam and Bagang every year since 2009, initially with generous funding provided by Children's Hope Foundation. The children and the villagers have been delighted with the Tibetan teachers and the benefits they have brought. Attendance at the schools has risen greatly as parents can send their children to school safe in the knowledge that their cultural heritage is being preserved.