In October, Philippa Carrick (CEO) and Kat Smith (Deputy Director) made a field trip to India and Nepal to monitor ongoing projects, meet some of the people who have benefitted from our grants and to talk about new projects for the coming year.
Here are some of the projects we visited!
Sponsored nurses


At the Empowering the Vision office in Delhi we met with Pema and Kalsang, two student nurses we support through an education grant. Both girls are loving their studies and can't wait to start working as fully qualified nurses!
Rewalsar Community Centre


We were shown the newly opened centre by Karma and his wife, Yeshe, and are delighted to be supporting this innovative project that will provide community activities and learning for both adults and children.
Jamyang Choeling nunnery


A 40-minute drive from Dharamsala, the nunnery is home to over 120 nuns. It was wonderful to meet the 17 nuns who are sponsored through us and witness nuns engaged in lively Buddhist didactic debates as in the photo!
Pokhara


In Pokhara, Nepal, we met some of the recipients of our medical grants and elders who receive our monthly stipends.
Tibet Ability


Tibet Ability presented us with a great report on the inclusive education project we supported and they have just completed. Look out for an update in the next Tibet Matters.
Nepal students


In Kathmandu we met some of our sponsored students who spoke about their dreams and also the challenges faced as Tibetans in Nepal.
Help on Hand


The indomitable Tsering Dolkar gleefully showing Philippa gory photos of patients who have been under her care in Chandigarh.
Build up Nepal


Representatives from Bakhang village met with Build Up Nepal and Tibet Relief Fund in Kathmandu to make plans for their new school.
Namgyal Monastic School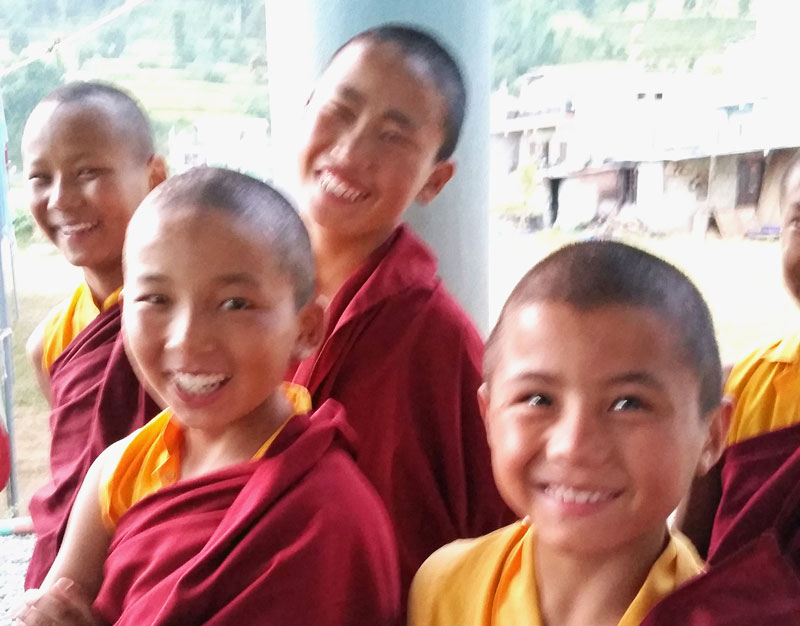 We met some of the young monks sponsored through Tibet Relief Fund who were in the school's Pokhara campus to escape the harsh and bitter winter in
Mustang. They will return home in the spring.