We're delighted to introduce you to a fantastic new project Tibet Relief Fund is supporting in the Spiti Valley in north west India.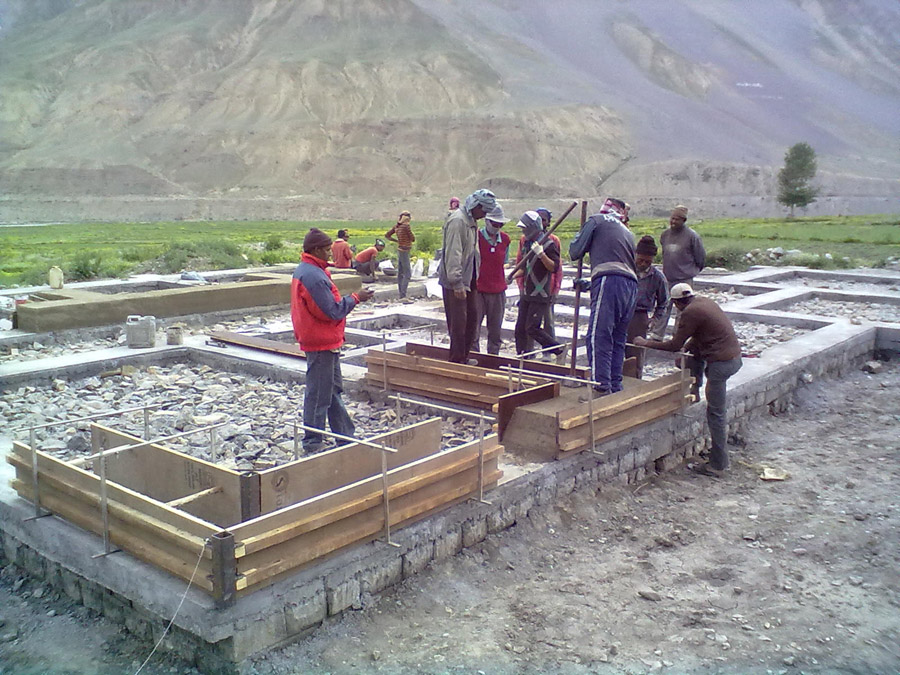 Bordering Tibet, Spiti is a cold desert valley surrounded on all sides by Himalayan mountain ranges and is home to approximately 10,000 people. Due to its geographical location between India and Tibet, the vast majority of the population are of Tibetan descent; the valley is dotted with Tibetan Buddhist monasteries and a dialect of Tibetan is spoken throughout the area. Those living in the valley are poor as they rely on seasonal subsistence farming to make a living. Although Spiti sees around 300 days of sunshine a year, the winters are extremely harsh and long and its isolated position means that for much of the year Spiti is cut off from the rest of India.
Our project partners have worked in the area for some years and are currently building an eco-community centre that will include medical and dental clinics healthcare facilities to serve the people of the Spiti valley.
With the Spiti valley being classed as a high risk on the seismic scale of India the centre is being built using earthquake resistant techniques. Solar technologies are also being incorporated to make use of the large amount of sunshine.
The resulting building will include a community hall serving as a valuable meeting space for locals during the long winter months and a space for young people to preserve their culture by practicing their traditional music and dance. As well as the community hall, the centre will feature a library, coffee shop, greenhouse, accommodation and an ophthalmic and dental clinic.
Using part of a legacy left to Tibet Relief Fund by Vanya Kewley Lambert, we are sending a grant to the project that will cover part of the building costs as well as paying to fully equip the dental clinic. This will improve the overall wellbeing by providing a vital service for local communities for both routine procedures and emergency treatment.


The dental clinic is a particularly valuable addition to the centre as at present there are no dental facilities anywhere in the valley. Any dental issue requiring treatment entails a two-day journey to either Manali or Kullu; an arduous journey that is particularly challenging during the winter months. With no easily accessible dental facilities, tooth loss is very common in both adults and children, as are infections and facial disfigurement caused by un-treated dental conditions or dental trauma for which no treatment is available.
As is common in such remote communities, the majority of people living in the Spiti valley have little or no knowledge of oral hygiene. With economic growth in the area making junk food and carbonated drinks more readily available, oral health is rapidly declining. The lack of information on the dental problems associated with such foods and drinks means more and more people are suffering unnecessary dental problems. One of the aims of this project is to address this by running oral hygiene workshops for parents and children in the valley.
The first phase of building has already been completed and work on stage two has just started. Keep an eye out in future Tibet Matters to see how the centre is progressing and learn more about the benefits it is bringing to communities across the Spiti valley.