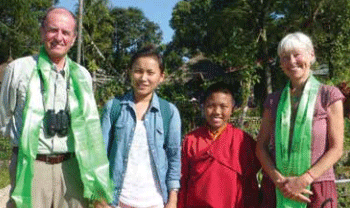 Late last year, Tibet Relief Fund supporters Carole and Neil travelled to Nepal to visit the two Tibetan students whose education they have sponsored for the last three years.
Here, they tell the story of their trip to meet Tenzin Dhesel, now a 20-year old undergraduate and Choekyi Gyatso, a 12-year old monk.
"We settled into the Tashiling Tibetan Settlement's guesthouse and it wasn't long before Tenzin and her mother found us as we left our room to eat at a local restaurant. 'No. no! You must come to our house for dinner!' A few minutes later after welcomes, kataks and hugs, we were cosily drinking butter tea in their kitchen with Mum busily preparing bread and thukpa. We immediately felt part of the family. Other family members joined us for a very lively and fun evening of getting to know one another.
Next day and still no public transport. Tenzin was unable to get to college so. with her friend Namgyal. was free to be our guide. After a stiff climb to the Japanese Peace Pagoda and a steep descent to Fewa Lake, a rowing boat took us to Pokhara Lakeside where we were to meet Choekyi and Wangyal. his monastic school's Administrator.
Choekyi, dressed in his maroon monastic robes wasn't difficult to spot amongst all the tourists! We lunched in a fairly upmarket tourist restaurant in a beautiful lakeside garden setting, where our assorted group turned a few heads! Five of us ordered curries. Choekyi chose pizza, usually a once-a-year treat enjoyed only at Christmas in his monastery! Shy at first, he soon relaxed and described his long school day that starts at 6.30am with chants. This is followed by standard lessons till 4pm (favourite subject Maths), then evening Buddhist text readings and music, plus table tennis, his favourite sport.
With lunch over it was time for sad goodbyes to Choekyi and an exchange of kataks and gifts. For us it had been a special delight that Tenzin and Choekyi were able to meet each other. The next morning saw yet more sad goodbyes to Tenzin and her Mum with hugs, tears and promises to meet again.
It had all been an extraordinarily rewarding experience. So, big thanks to Tsenng Passang at Tibet Relief Fund and Sonam Sangpo at Tashiling for their brilliant organisation in helping to make it all happen.
If you're a Tibet Relief Fund sponsor and would like help facilitating a visit to your sponsored individual, please do contact our Sponsorship Coordinator [email protected]