Grant amount: £2,000 – to support 16 elders
Dekyiling Tibetan settlement was set up near Dehra Dun, India, in the early 1980's; it was initially established to house Tibetans having to leave Bhutan following the change in policy whereby Tibetan refugees in Bhutan had to choose to either become Bhutanese citizens or leave. Beginning with just 720 settlers, today it is home to nearly 2,000 Tibetans.
One initiative to help the community to become self-sustaining was to establish a handicraft centre that produced traditional Tibetan handicrafts such as the colourful aprons worn by married Tibetan women, carpets, and incense.
Elders now make up a large part of the community with many only speaking Tibetan, having not had the opportunity to get an education when they first arrived. Today, many of these elders are no longer able to work … and we think that they shouldn't have to!
Thanks to your support, we are able to ensure they can live out their later years with peace of mind, security and basic comfort. We provide 16 elders with regular stipends; this ensures they have enough food to eat, comfortable accommodation and medical care when they need it. Here are some of their stories …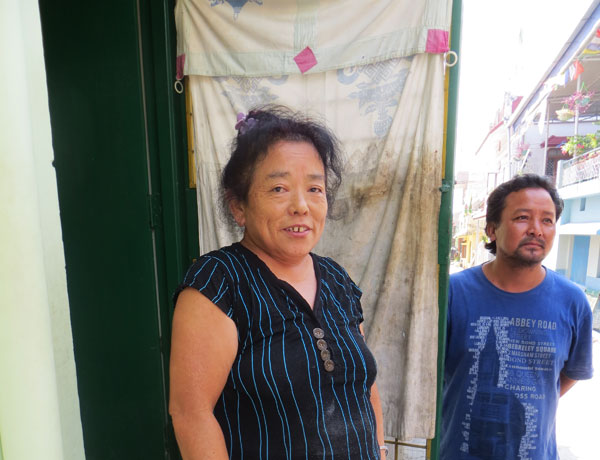 Tenzin Tsewang escaped Tibet in 1959 and began working as a casual labourer, finding building or farming work in and around Ladakh and Himachal Pradesh. He then went on to join the Tibetan regiment of the Indian army and served for almost 30 years! Now he is a very respectable 72 years old and cares for his wife, who sadly has tuberculosis, at home. Tenzin's stipend means he can make sure his wife is comfortable and well cared for which provides a real lifeline for the family.
Migmar Chokyi also escaped Tibet in 1959; ever since she has worked as a carpet weaver. She lives with her husband, Tsering, their daughter and their daughter's family. Migmar has diabetes and can no longer work so the stipend she receives helps not only to support herself, but also the rest of her family.