Last year we undertook lots of exciting new projects including putting on several exhibitions, hosting a poetry evening and publishing our first book…
Colouring Culture
Last year we published our first book, The Fabric of Tibet; regional dress from the roof of the world, along with an accompanying colouring book so Tibetan and non-Tibetan speaking children can learn about Tibet's rich culture at an early age.This features 20 beautiful illustrations of Tibetan people from around the country wearing regional dress, along with simple descriptions in Tibetan and English.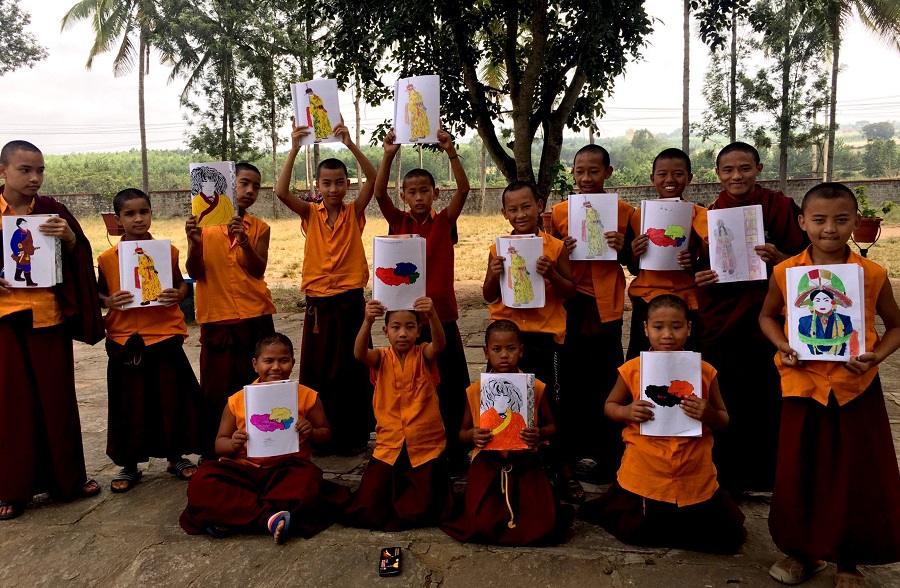 We have distributed nearly 1,500 copies to early years students at Tibetan schools in India and Nepal and are so pleased to see the children making the books their own! We will also be distributing to Tibetan Sunday schools in the UK and other Tibetan schools in India and Nepal.
You can buy your own copy, or donate one to a child, via our online shop, where you can also purchase The Fabric of Tibet book:
www.enlightenedgifts.org/the-fabric-of-tibet-colouring-book
We were made for home: an evening of Tibetan poetry
Late last year we hosted a moving celebration of Tibetan poetry at our local bookshop, Burley Fisher. We welcomed four Tibetan poets and speakers to share their work and take part in a fascinating discussion of Tibet's poetic past, present and future.
First up was Dechen Pemba, the editor of High Peaks Pure Earth. Her website translates contemporary poetry and writings from inside Tibet and the People's Republic of China, providing an invaluable link between Tibetans in exile and those still living in Tibet. Following Dechen, scholar Darig K. Thokmay treated us to beautiful readings in both Tibetan and English.
After Skyping with Dhondup, a poet based in Paris whose work reflects on refugee identity, the evening was rounded off by a reading from Lekey Leidecker, an activist and poet from Washington DC. The final line of her poem Refuge gave the event its name – "we were made for home" – and its poignant message sparked discussions that kept the bookshop packed until past closing time!