On Friday 20th February Tibet Relief Fund was presented with a cheque for £2,500 to send to the Tibetan Lodrik settlements in Nepal. This is the result of donations raised so far through a new film featuring several Lodrik elders, Drensol.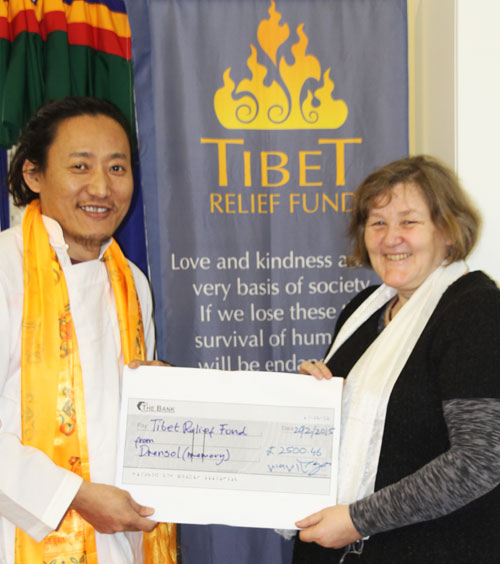 This new film by Sonam Nawang N. Anja-Tsang, director of Little Tibet and Little Tibet 2, captures the fascinating oral history of Tibetans who lived through the 1959 uprising as the illegal occupation of Tibet by China intensified.
Drensol (meaning 'memory' in Tibetan) documents the eyewitness accounts of 23 elderly Tibetans who lived in a pre-occupied Tibet and through the 1959 uprising, escaping to Nepal where they still live as refugees today. The film will be released in March 2015 with a screening in London. View the Drensol trailer here:
Tibet Relief Fund is proud to have supported this film from its conception. One of Tibet Relief Fund's goals is to aid the preservation of Tibetan culture and history. Drensol provides a unique and invaluable source of eyewitness evidence of what life was really like in pre-1959 Tibet. Capturing oral histories is vitally important; as every year goes by the opportunity to hear or record these stories gets fewer and fewer.
Sonam, director and producer of Drensol, said:
"I originally set out to raise enough money for the production and distribution of Drensol. People responded enthusiastically and soon the donations were well over what I needed for the film. Instead of rolling the money over to my next film project I decided it would be right to send the money via Tibet Relief Fund to the Lodrik communities in Nepal, of which several members are featured in the film. I continued to put my efforts into raising extra donations for the Lodrik elders.
The elderly Tibetan people in these communities need our support as they struggle to afford their food, housing, clothing and medical care."
So far £2,500 (around $3,840) has been raised by Drensol for the Lodrik elders via the Tibet Relief Fund website and Sonam's fundraising efforts.
Sonam and Tibet Relief Fund would like to thank all the dedicated supporters who have made the realisation of this film possible, and have directly helped the Lodrik communities.